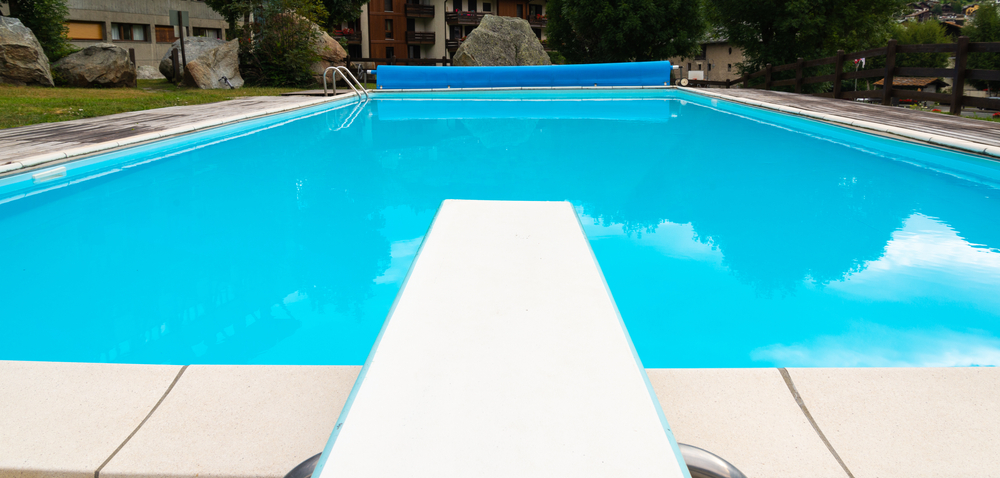 Most people have a clear idea about what their swimming pool should look like. They have a picture of the dimension, materials, and colors they want to use. There is, however, one last variable that homeowners should consider: the proper depth for their swimming pool.
Your swimming pool contractor will guide you into making the right pool depth choice for your budget and lifestyle:
They will consider your family size and members as well as how you plan on using your pool.

They will also ask you about any sports you like to do in the water, such as water polo, and if you like doing laps for exercise.

Finally, they will invite you to think about jumping and diving in the water.
All these considerations will go into determining the right pool depth.
How Are You Going to Use Your Swimming Pool?
Families with children have specific needs in terms of pool use. They want a shallow and safe part for the children to splash and play in, as well as a deeper end for adults to swim in.
Before choosing the right pool depth, think about how your family will grow: children grow up fast, so within a few years they will not need the shallow end.
If you like lazing in the sun, you probably don't want a very deep pool. Those who enjoy doing laps up and down need a longer pool with a depth that is at least 4 feet deep so they don't hurt their toes and knees as they swim.
If you are into water sports, then you should adapt your swimming pool depth to the sport you enjoy.
The best thing is to talk with Waterside Poolscapes and we will guide you into making the right choice for your swimming pool.
The average pool depth varies between 6 and 8 feet. This depth is safe for swimming, doing laps, and enjoying the swimming pool.
On shallower ends, the depth is usually around 3 to 4 feet. This is the perfect depth for older children as well as people who want to feel sure they can stand safely with their chest and head well above the water. The elderly usually like such depths.
A safe pool depth for children varies between 20 inches and 3 feet. These are perfect depths for tanning ledges as well.
What If I Like Jumping and Diving?
Jumping and diving can be really fun. It can make you feel like a child again with the freedom and bliss of splashing with gusto.
If you plan on using your swimming pool for jumping and diving, you should make the most of it.
The Right Depth for Jumping and Diving
The minimum depth for diving in a swimming pool is 8 feet, with most pool constructors and pool professionals suggesting 9 feet as the safest depth.
If you like diving with your head first, a 9-feet depth is a safe pool depth for jumping.
A Pool for Diving and Jumping
You may like the spring diving board you see in public swimming pools and athletic swimming pools. However, most residential swimming pools are installed with a low ledge. This gives less spring to your jump and makes sure you won't hurt your head or any other part of your body.
Pool Width for Jumping and Diving
A further consideration is that your swimming pool can't be too narrow if you choose to install a diving board. You want to make sure you have enough space when you jump, or you risk hurting yourself on the swimming pool edges.
You should allow at least a width of 16 feet for safe diving and jumping.
Pool Length for Jumping and Diving
All swimming pool professionals will install the jumping board on the longest side of the pool to give you space to come back from under the water once you have dived. This means your swimming pool should have a minimum length, which is estimated at 32 feet. Any length under that and you will have to come up very quickly after your dive.
This brings us to a further point: the shape of your swimming pool.
It comes naturally that a rectangular swimming pool is the best shape for diving. It gives enough space in terms of length and width for people to safely jump into the water.
Things are more complicated in the case of decorative pools with rounded shapes. Kidney-shaped pools, circular pools, free-form pools that fit the landscape, and oval pools complicate things. You might not have the required length or width to install a diving board.
Remember that a diving board takes up space. If your swimming pool doesn't offer enough space to install the concrete pad where the board will be positioned, then you should consider switching to a different pool shape to accommodate the board.
Other Considerations to Take into Account
Deeper depths are great, but you must consider the cost of building your swimming pool:
If you plan on jumping and diving into your swimming pool, you will need to make it deeper than average.

This means you will have to pay more for excavation, as it will require more work to reach the desired depth.

You will also need more materials to line a deeper swimming pool.

Finally, when you decide on installing a deeper pool, don't forget to look at the long-term costs. You will, for example, have increased costs in terms of water usage and maintenance.
What Are the Local Rules?
To build a swimming pool, you need a permit. The American National Standard for In-Ground Swimming Pools states that a pool with a diving board should be at least 16 feet by 32 feet.
Your pool contractor will ensure you follow all local rules and regulations, as these can vary.
If your home belongs to an HOA, there may be additional rules regarding the installation of a diving board.
In addition, swimming pools should be fenced for safety reasons for young children and pets.
Choose Waterside Poolscapes for Your In-Ground Swimming Pool
Here at Waterside Poolscapes, we have excavated and installed hundreds of swimming pools across Texas and the United States.
We value our communication with our clients and are punctual with deadlines. We answer all questions, as we want to deliver the swimming pool of your dreams. If you want to jump and dive in your pool, we will make sure you get a swimming pool that lets you do so.
We will suggest the pool shape and dimension that fits your landscape and accommodates diving. We will also dig the safe depth for jumping to help you enjoy your swimming pool the way you want it with absolute safety.
Schedule a Call, Contact us at 281-690-4810 or visit our pool showroom and let us plan, dig, and install your swimming pool.