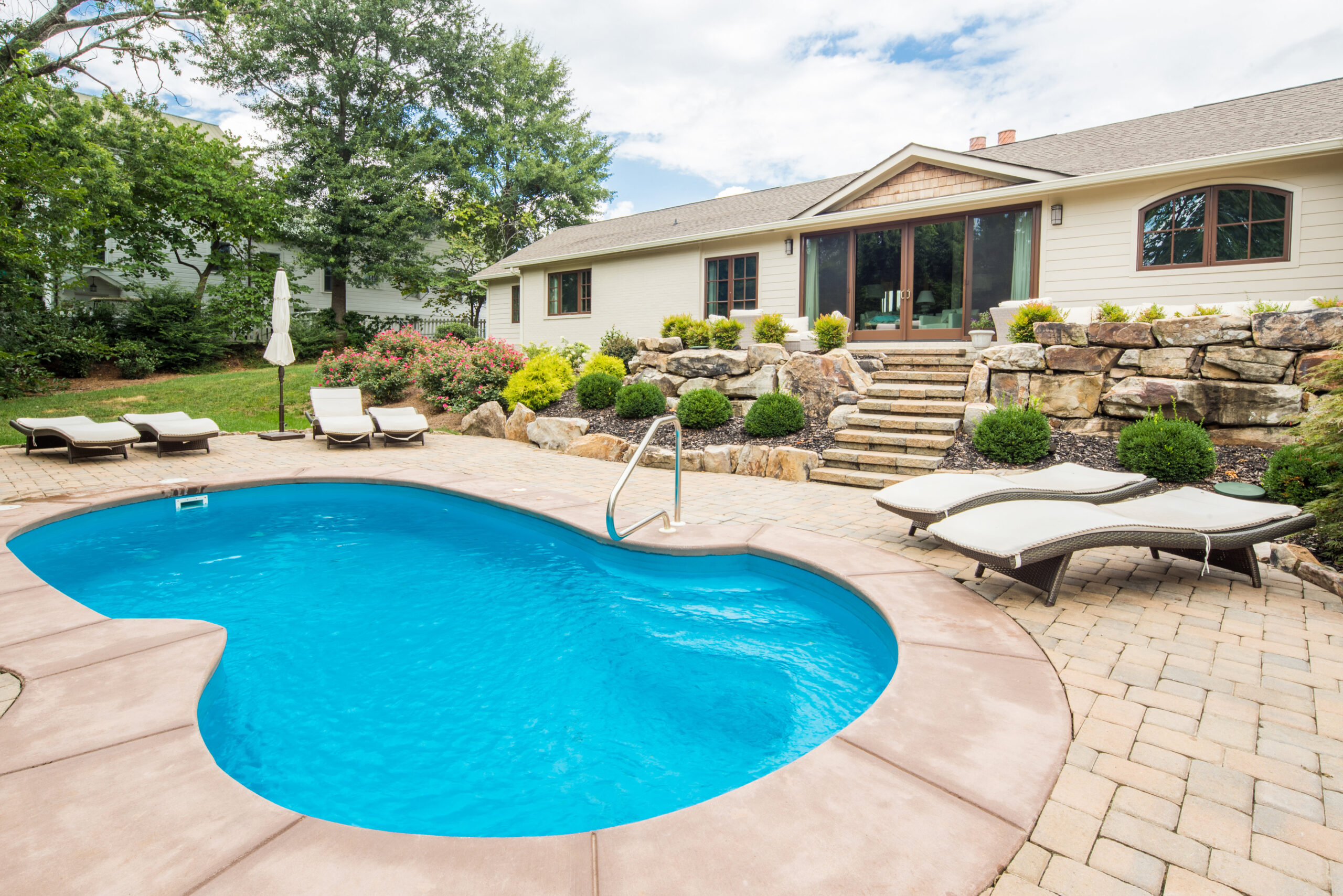 Choosing the Right Pool Shape
You have the necessary space and have saved up all you need to build the swimming pool of your dreams. Now, it's time to make an important decision: what pool shape do you want?
From a simple rectangle to a five-pointed star, your pool can be any shape you choose. It all comes down to what works best for you.
Take a look at our guide to make sure you're selecting the swimming pool shape that matches your space, needs, and preferences.
How Much Space do You Have?
The first thing to consider is space. How large is your yard or garden? What shape is it? Is it sloping?
If you have landscaping features like trees and shrubs, do these define the space? You might need to either include these features into your swimming pool design or rearrange your garden to fit your pool.
Your available space will also help determine the shape of your swimming pool. A long and narrow yard, for example, would be great for a lap pool or a rectangular pool. But trying to fit a kidney-shaped pool in such a space could make it look squeezed and out of place.
Don't Forget the Space around the Pool
As swimming pool experts, we often advise our customers to think not only about the pool itself but also the space around it.
BBQs, sunbathing, gardening, children playing, and any sort of entertaining all require extra space around the edges of the swimming pool. Before choosing your swimming pool shape and size, consider all the activities you're planning once the pool is built and make sure there's enough space to accommodate them.
How Are You Going to Use Your Swimming Pool?
Before deciding on your swimming pool shape, take into consideration what you will be using it for.
Fitness aficionados might consider going with a lap pool or rectangular pool. These shapes are perfect to keep you fit and accommodate your daily exercise routine.
Many families prefer simple shapes, like squares and rectangles—often with a shallow end for the younger kids to play in.
Entertaining guests and friends around the swimming pool is a great way to unwind and relax. A round, oval, or free-form swimming pool are all great choices to keep the fun going and the conversation flowing.
People who enjoy lounging and relaxing by the pool may choose a kidney-shaped or free-form swimming pool, as the curved lines have a more natural look that promotes relaxation.
If you like to dive, it's essential to choose a swimming pool with a deep end. Remember that pool depth determines cost: the more digging there is, the more expensive it is.
Who Will Be Using Your Swimming Pool?
Unless you're a hermit in the woods, chances are people other than yourself will also be using your swimming pool. Keep them in mind when choosing your pool shape and size.
If you have young children, something small and simple might be tempting. But before you know it, those kids will be teenagers throwing pool parties and inviting all their friends over to splash around. Choose a pool shape and size that not only fits your family's needs right now but also a few years down the line.
If one of your family members is mobility-impaired, you'll want to accommodate them with a swimming pool that offers easy access, such as steps or a ramp. And don't forget about grandparents and the elderly; when they visit, they'll greatly appreciate an easily accessible swimming pool.
Which Extra Features Will You Add?
Setting a rectangular swimming pool at the center of a rectangular yard filled with rectangle patches of grass might be efficient, but where's the fun in that? A swimming pool shouldn't just sit on its own. It needs features that will enhance the swimming experience and reflect the joy that a swimming pool brings to your life.
You'd be surprised at the variety of added features a swimming pool can include. Of the long list of options, here are just a few highlights: a patio, grill, BBQ, fire pit, tanning ledge, bench seating, hot tub, slide, diving board, outdoor shower, fountain, waterfall, steps, ladders, handrails, pathways and more!
Some of these will make life easier for children and older adults; others will add fun and enjoyment to your space. If you plan on entertaining, you will want to design your swimming pool area with that in mind, adding lots of seating and space for people to move around.
What Is Your Budget?
Some pool shapes are easier and cheaper to install than others. The more popular shapes, like rectangles and circles, are often made from fiberglass and are more cost-efficient. Less popular shapes such as free-form pools are a bit trickier—but more fun and original.
If you want a free-form pool, you can use concrete (also called "gunite") or vinyl. Bear in mind that concrete is more expensive to make and install. Vinyl is cheaper but flimsier. As a result, it may require replacement within a few years.
When considering your budget, also think about maintenance, because some swimming pool types and shapes require more frequent maintenance than others. Talk with your swimming pool constructors to make sure you understand the specifics of your pool type.
What Look Are You Going For?
Aesthetics is a crucial issue to consider before selecting a swimming pool shape.
For a modern-looking home, the clean and straight lines of a rectangular swimming pool would fit perfectly.
Customers going for a cottage-feel would probably prefer a kidney-shaped or free-form swimming pool since the rounded edges add softness to the backyard.
As for a classical home, perhaps a Roman or Grecian design could add a touch of elegance and grace to your garden and your outdoors.
What Shapes Can You Choose From?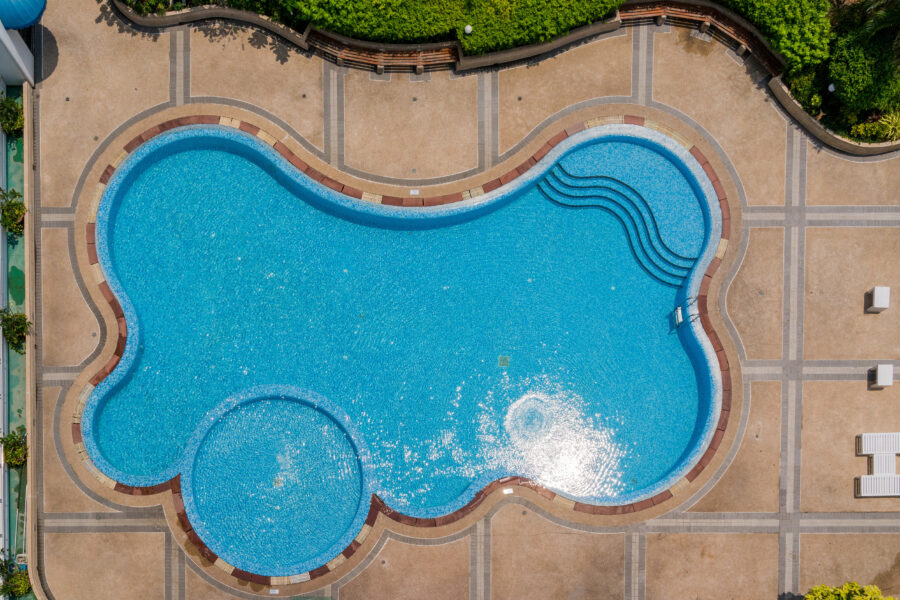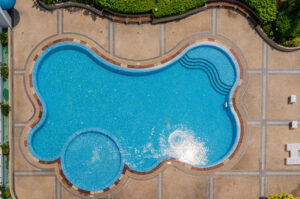 Once you've considered your space, usage, budget, and aesthetics, it's finally time to pick the perfect swimming pool shape.  
Rectangle Swimming Pool
This is the most common swimming pool shape, and for good reason. It's simple, clear and clean, and can be used for both exercise purposes and for entertaining guests.
Lap Swimming Pool
A lap swimming pool is an elongated rectangle designed specifically for swimmers to practice their laps. The longer you can make a lap pool, the better, but they can still fit in smaller yards; you'll just have to turn around more often! 
Oval or Round Swimming Pool
Oval and round swimming pools are great for entertaining and relaxing. The curved edge is much calmer than the straight lines of a rectangle pool, encouraging people to relax and talk while splashing around in the water.
Kidney-Shaped Swimming Pool
Kidney-shaped swimming pools pair beautifully with features like a waterfall or an attached wading pool, while still giving plenty of space for swimming and socializing. Nothing says "relaxing tropical getaway" like a kidney-shaped pool.
Free-Form Swimming Pool
If you can dream it, we can build it. Free-form swimming pools come in any shape and any size—the only limit is your imagination.
L-Shaped Swimming Pool
L-shaped swimming pools are incredibly versatile; they can accommodate a deep end for diving as well as a shallow end for playing and swimming. They can please all members of the family, from those who like to swim to those who prefer to dive or those who simply like to float around in the water.
Roman and Grecian Swimming Pool
Add elegance and magnificence to your outdoor area with a Roman or Grecian design. The arch shapes at the ends give space for stairs and steps, while the overall look adds a classical touch to your garden.
Whatever the Shape, We Will Make it Happen!
 Whatever swimming pool shape you have your heart set on, we can make it happen. Our experienced crew will make sure you have a solid, well-built, and carefully crafted swimming pool that fits both your vision and your budget.
Call now Waterside Poolscapes, the top U.S. Pool Builder, on 281-690-4810, schedule a free, no-obligation swimming pool design consultation, email us, or contact us online to bring to life your dream swimming pool!
Should you wish to meet in person, visit our showroom at 25311 Kingsland Blvd #110, Katy, TX 77494. Office Hours: 8:30-4:30 Monday to Friday, CST.