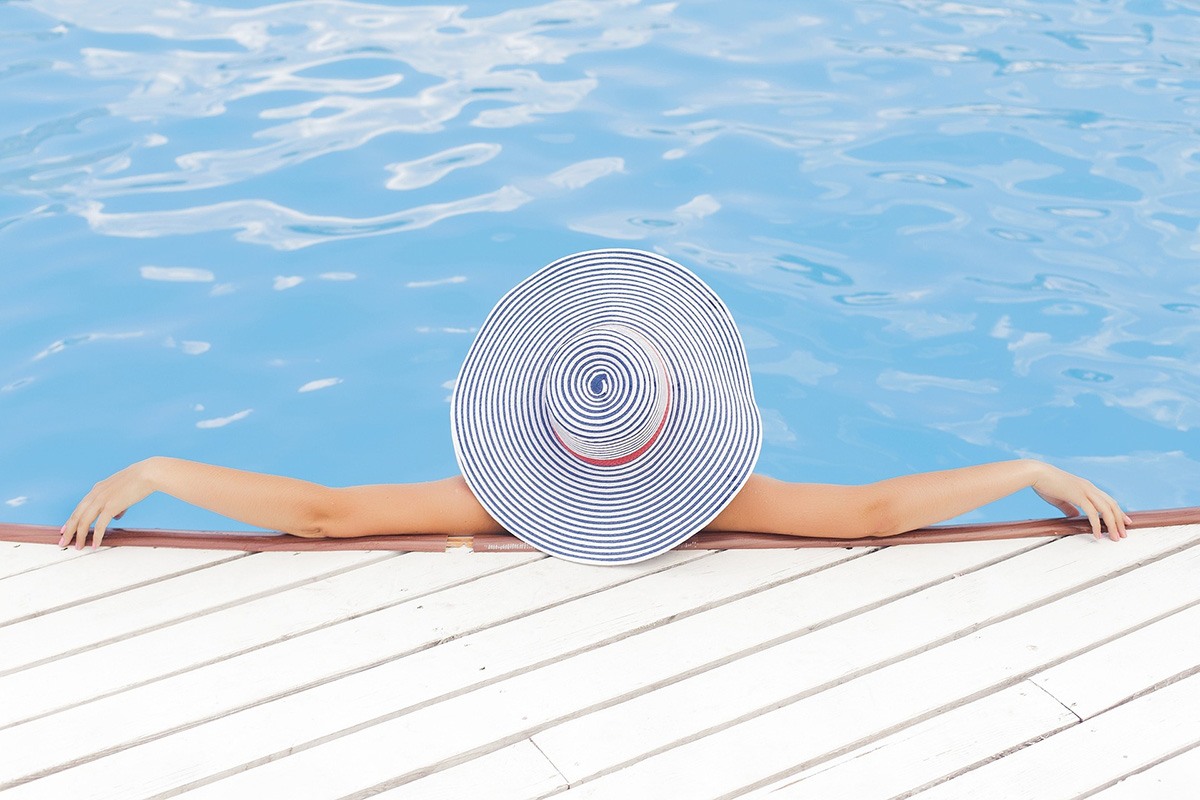 How Much Does an In-Ground Pool Cost?
Are you considering adding an in-ground pool to your property but are worried about the cost? Our handy guide will help make sure you have the required budget to match your project.
Of course, there is no set cost for an in-ground pool. It varies depending on elements like the swimming pool's material, size, depth, and add-ons like slides, waterfalls, and steps. Prices can even change based on which state you live in and the overall value of your property.
The first step is to determine what type of swimming pool you want and what you're going to use it for. Then, you can start looking at your options for in-ground pools (e.g., size, depth, materials) and choose the ones that best fit your budget.
Here are the potential costs of an in-ground pool and the choices you can make to keep costs down when making your dream pool a reality.
What Does the Average Swimming Pool Cost?
Generally speaking, an in-ground swimming pool installation costs around $70,000. This can go as low as $30,000, but can also reach well into the $95,000 range with enough add-ons and extra amenities.
When weighing your options, consider the long-term costs, too. For example, while vinyl swimming pools are usually more affordable, they don't last as long and require frequent repairs and relining.
What Determines Swimming Pool Costs?
Swimming Pool Size and Depth
The larger the swimming pool, the more materials, labor, and digging that are required. You should expect a cost of $85 to $125 per square foot of swimming pool area.
Deep ends require more digging, dirt hauling, and labor than shallow pools, which is why swimming pools with deep ends can be more expensive.
If you're planning on using your pool for relaxation and cooling off, you don't necessarily need a full-sized swimming pool. A spool (spa/pool) or a cocktail pool could match your needs without throwing you off-budget. These more compact backyard pools cost between $35,000 and $45,000, and will both upgrade your lifestyle and add value to your property.
Before deciding on a large, deep-ended swimming pool, consider how you're going to use it. If you want a pool to swim laps and practice diving, then you probably want a pool with a deep end. If you'd prefer to freestyle swim, relax, and lounge around, consider something smaller and shallower.
Defining your expected use will help you choose a swimming pool that fits your needs and meets your budget without exceeding it.
Swimming Pool Material
The material you choose will determine to a large extent the cost of your swimming pool.
Vinyl swimming pools are often the least expensive option, while fiberglass and concrete are more expensive. However, vinyl lining needs to be replaced about every 10 years while concrete swimming pools often last 25 years before they need to be relined.  
Before making your choice, keep in mind that fiberglass swimming pools cannot be custom-made, whereas concrete pools can be formed to any size and shape you want.
Why Are Swimming Pools Expensive?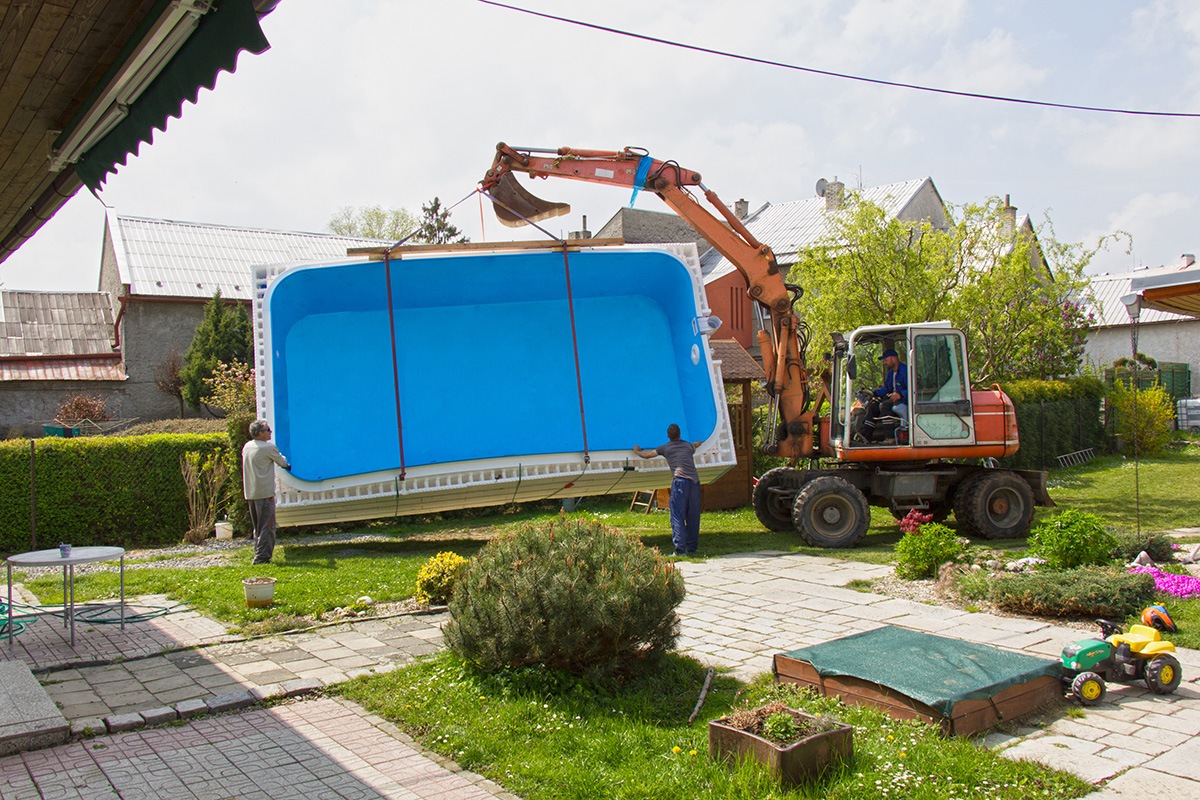 Installing a swimming pool requires not only construction materials, but also labor, skill, and expertise.
A professional pool installation company will have invested in expensive equipment, tools, and machinery, which affects their prices. Digging and grading are time-consuming and labor-intensive. You also have to factor in the concrete or sand foundation that all in-ground pools need. You might even need to rent a crane if your pool's location isn't easily accessible from the road.
Then there's the cost of materials—vinyl, fiberglass, or concrete—to consider, as well as all the infrastructure you need to get your pool up and running, like a water filtration system, or extra piping if the pool doesn't have easy access to the utilities.
Speaking of piping, you'll need to hire a plumber to install and connect the pipes to your swimming pool—and also an electrician to do all the wiring. Add in the cost of the swimming pool permit and you can see how the costs start to add up!
What Increases a Swimming Pool's Cost?
Landscaping
If your swimming pool area has trees and shrubs, you will need to consider their removal or transplantation. This will increase your overall cost, as the average price of cutting down a tree ranges around $750.
Once the pool has been installed, you'll probably need to landscape the surrounding area with trees, shrubs, and grass. The more landscaping features you want to install, the higher your costs will be.  
Sloping, Re-sloping, and Retaining Walls
In an ideal world, your land would be perfectly flat and you could drop a pool right in with no groundworks needed. But that's rarely the case—and if you have sloping terrain, you might even need a retaining wall, which can cost well into $5,000.
Also, digging dirt is much easier than digging rock. If your underground terrain is rocky, the digging costs could increase significantly. The presence of rocks in the soil can increase your overall digging cost by more than $1,000.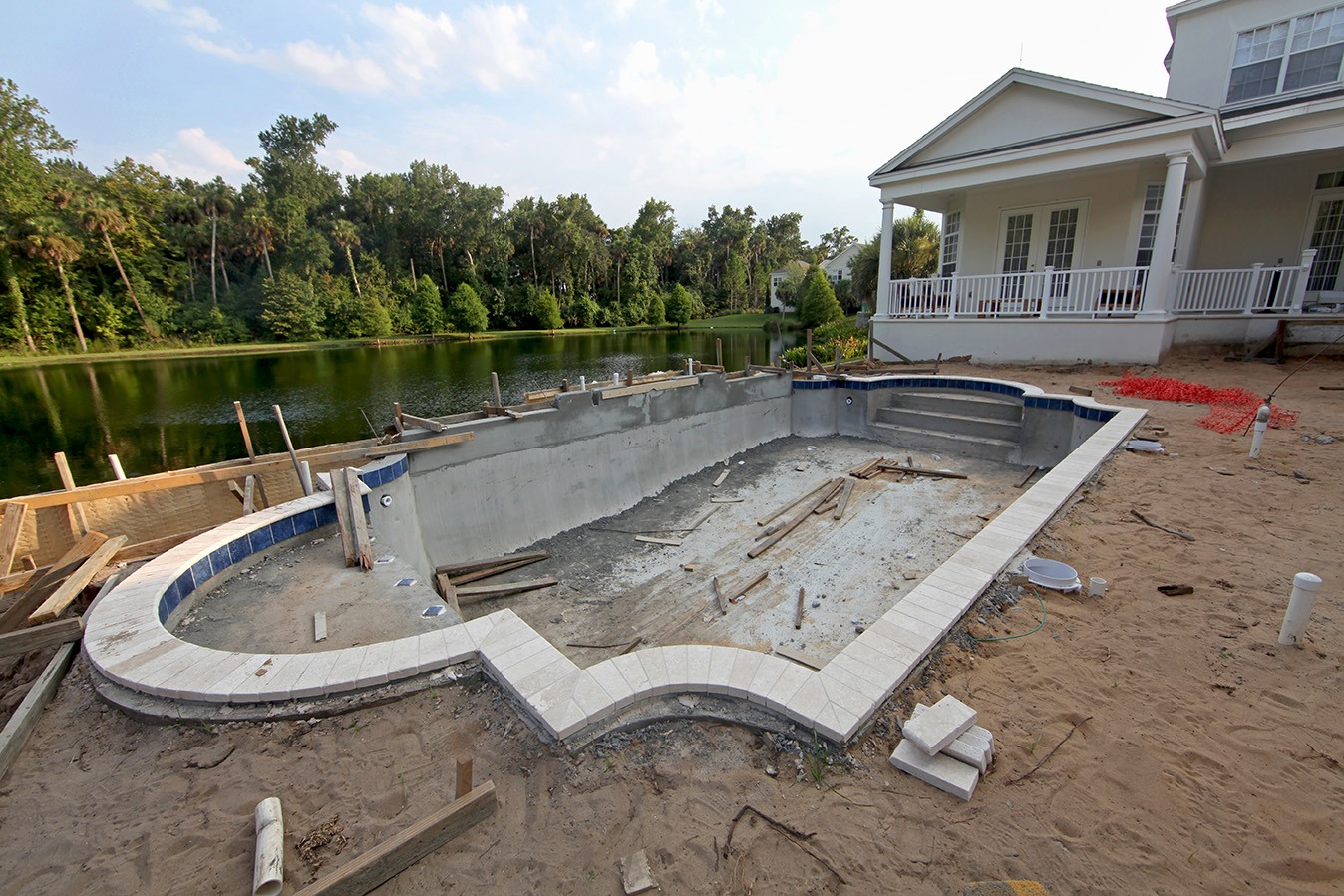 Steps, Rails, and Other Add-ons
Adding steps, rails, and similar features will also increase your cost.
Steps can cost from $500 to $2,000, and handrails are usually a couple of hundred dollars.
Fencing your in-ground swimming pool could cost between $2,000 and $8,000, depending on the size and material used.
Upgrades
You are spoiled for choice on what you can include in your swimming pool as an extra feature. Waterfalls, a pool deck, landscaping rocks, a hot tub, lighting, a pool cover, a slide… the options are too many to list!
Here are some typical costs for in-ground pool upgrades:
A swimming pool

slide

can cost up to $4,000.

A

deck

can reach around $5,000, depending on the material used.

Hot tubs

generally cost between $6,000 and $12,000.

Adding

lighting

to your pool could add $1,500 to your project.

A

prefabricated waterfall

costs around $1,500, but you should expect to pay a lot more if you want something custom-made.

Your pool installation costs will also increase if you want to heat your swimming pool water. A

swimming pool heater

could add up to $5,000 to your project. Your

swimming pool maintenance costs

will go up, too.
We Are Your Swimming Pool Experts
Planning your in-ground swimming pool is complicated enough without having to worry about costs spiraling out of control.
Waterside Poolscapes are experts at swimming pool installation. We have years of experience, specialized equipment, and a skilled crew just waiting to build your dream pool. Tell us your budget and vision, and we'll build you a high-quality swimming pool to match.
To build an in-ground swimming pool, call Waterside Poolscapes, the top U.S. Pool Builder, at 281-690-4810, schedule a free, no-obligation swimming pool design consultation, email us, or contact us online.
Should you wish to meet in person, visit our showroom at 25311 Kingsland Blvd #110, Katy, TX 77494. Office Hours: 8:30-4:30 Monday to Friday, CST.