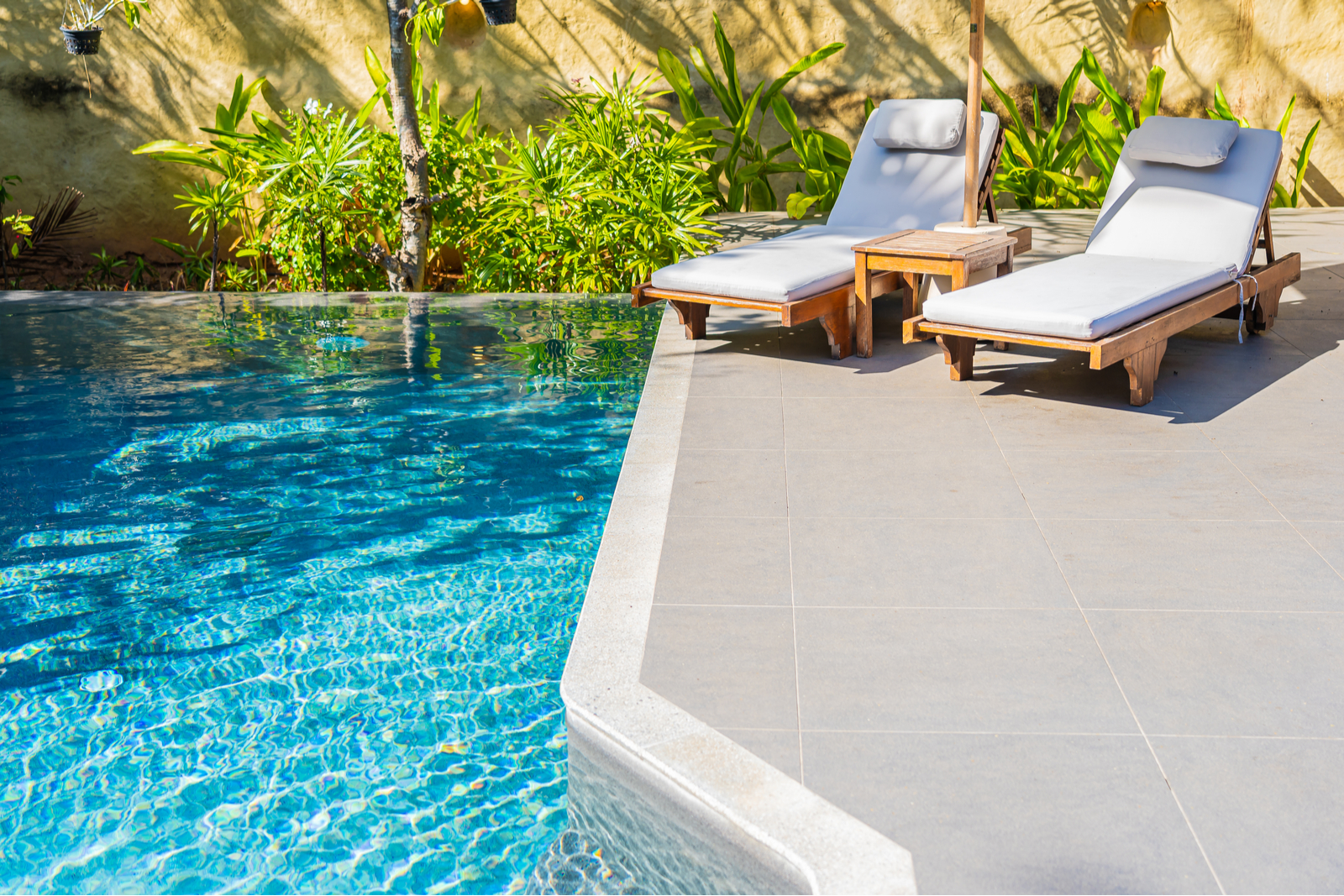 How to Turn Your Swimming Pool Area into a Haven
There is so much to add to swimming pools—and your backyard surely deserves the best. You can improve your swimming pool area with a deck, patio, outside kitchen, pathways, and vegetation to turn it into the kind of place you'd never want to leave.
Create the inviting ambiance you are looking for by choosing the right materials, colors, and shapes to develop the surrounding area of your swimming pool.
As swimming pool constructors, we can help you perfect your swimming pool area and build the most amazing relaxation space for your friends and family.
Vegetation and Greenery
Your swimming pool will stand out against the backdrop of vegetation, trees, and shrubs. The blue of the pool against the green of the plants will give your area a natural feel.
Landscaping the area around your swimming pool requires an expert who will know what types of plants work in your area. We suggest you don't plant deciduous trees right next to your pool, as the leaves in late summer and early fall are likely to create debris in and around the pool.
Depending on how you envision your swimming pool area, you can choose the matching trees, flowers, and shrubs. If you are going for an exotic look—and your climate supports it—go instead for palm trees and other plants like hibiscus that will add a glamorous Caribbean touch to your space.
You can also create a cottage feel, modern look, or whatever you feel looks suitable for your swimming pool's design and matches your taste.
Lights Everywhere
When constructing your swimming pool, remember to include lights in the pool. They create an amazing ambiance at night.
Once the swimming pool is done, invest in lights around the pool. If you'd like something even more interesting, try changing-color lights for maximum effect. There are hundreds of lamps and lights to choose from, such as floating pool lights that will brighten up the pool's surface and generate a dreamy feel in your backyard, so you will be spoilt for choice.
You can then enjoy your pool at all times of the day and spend beautiful summer evenings lazing around the swimming pool while enjoying the night sky.
Pathways around the Swimming Pool
Create pathways around and toward the swimming pool. These will add consistency to the landscape and create beautiful spots for sitting around: if you have a nook, include a bench, lounges, or anything that will create a private space within your backyard.
Make your walkways out of brick or stones to add a natural touch to your area and make them blend nicely with the swimming pool itself.
Add Movement to the Water
Jets, fountains, and waterfalls will provide movement to your backyard and have a mesmerizing effect.  
Waterfalls can use the same water as your swimming pool. Have waterfalls dropping water at one end of the pool or create a customized area in the swimming pool dedicated to the waterfall so that you can enjoy the gentle massage of the falling water on your back.
You can also put a waterslide, particularly if you have children: they will love it and so will you.
Ask an experienced swimming pool constructor like Waterside Poolscapes about other dramatic water features that can be added to your pool.
Define Your Swimming Pool with Rocks
If you want to create a secluded area right at the edge of the pool, think of positioning some rocks around one edge of the pool. They will create a natural enclosure, while their interesting textures will add drama to the landscape.
Standing rocks can also be a defining element of your pool design. Use them to create a natural barrier between the swimming pool and other areas. You will find rocks in several colors and textures to best match your swimming pool's look.
Invest in a Deck
A deck will add space around your swimming pool and create an inviting space for your deckchairs and sun lounges.
You can have a wooden deck or a deck made out of stone or tiles. Choose the material that best matches your home, lifestyle, and backyard to maximize your enjoyment of the swimming pool.
External Add-ons
An outside kitchen, BBQ area, fire pit, or gazebo are constructions that can greatly upgrade your swimming pool area.
Such amenities make outdoor living even more pleasant and invite you to spend time, cook, and eat around your swimming pool—not to mention offering the perfect excuse to laze around!
If your garden or backyard is big enough, you can easily incorporate such add-ons and turn your pool into a haven from the hustle and bustle of everyday life.