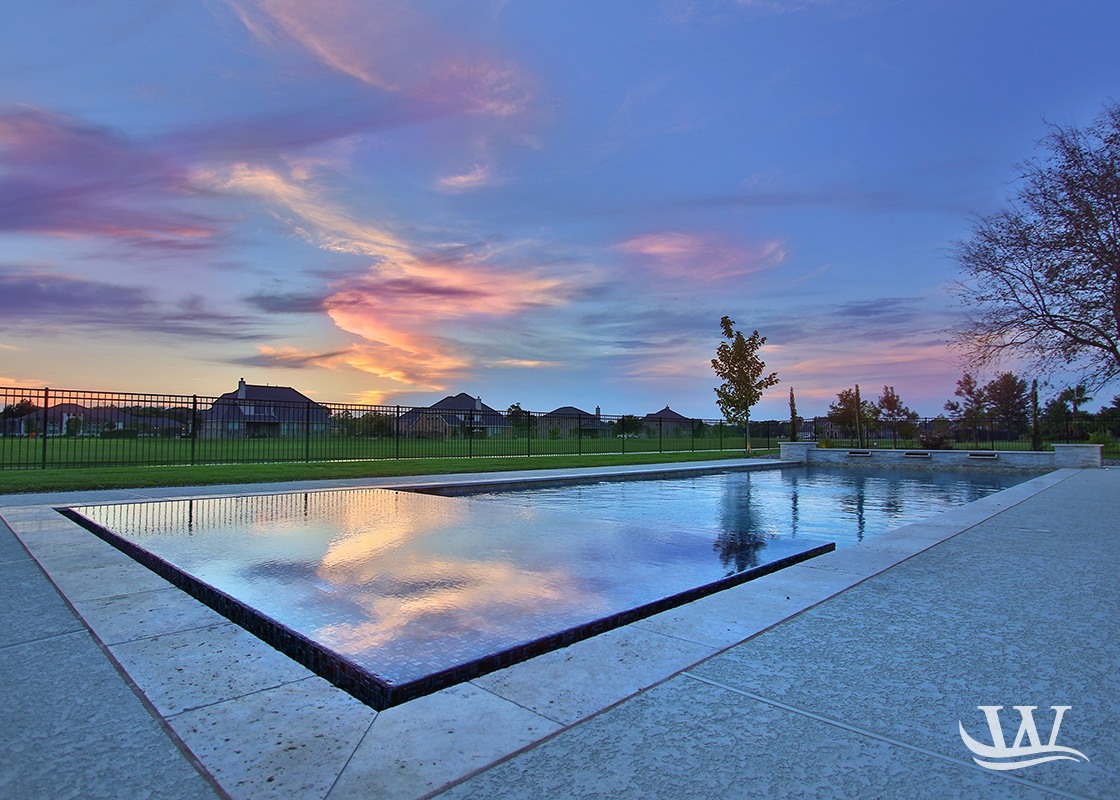 There's something simply captivating about a custom backyard pool design. Over the years, backyard pool design has transformed from simple concrete basins to luxurious oases that serve as both aesthetic masterpieces and functional retreats. Today's modern trends are not just passing fads; they're changing the very essence of backyard aesthetics, combining style with enduring appeal.
Looking to upgrade the backyard with a stunning pool design? Or perhaps you're looking to simply update your current poolscape? At Waterside Poolscapes, we are here to help you in your search for the perfect custom design. With our years of experience, we've witnessed firsthand the evolution of pool design, and we understand your craving for a custom poolscape that will not only stand out aesthetically but will also leave a lasting impression on guests. You deserve more than a pool; you deserve an experience. Check out these five tips and inspirations to help guide you in your search for the perfect modern pool design.
1. Embracing Natural Elements in Backyard Pool Design
The magic truly begins when nature meets backyard pool design. Incorporating elements like cascading waterfalls, rustic rocks, and lush plants can give your pool an organic look, seamlessly merging it with its surroundings. Imagine a slide that looks more like a cascading waterfall or in-pool seating that feels like a natural rock formation. Bringing in natural elements brings a timeless allure that never goes out of style.
At Waterside Poolscapes, our dedication lies in partnering with you to discover your preferences and lifestyle while seamlessly integrating them with the latest trends in modern design.
2. The Rise of Infinity Pools in Modern Backyard Design
The infinity pool—also known as a vanishing edge pool–is a concept that seems almost magical and is a statement in any backyard pool design. As if defying the laws of physics, the water seems to vanish into the horizon, creating an illusion of endless space. Especially if you have a breathtaking view to complement it, an infinity pool can transform your backyard into a luxurious resort getaway. It is elegance redefined and is a testament to how far modern pool design has come.
Modern pool design is taking cues from nature and incorporating natural materials into the landscape. Instead of opting for concrete, homeowners are choosing unique tiling options to create a more natural appearance. For example, pebble tile can be used to mimic the look of river stones or coral formations – a perfect complement to an infinity pool.
3. Incorporating Technology for a Futuristic Touch
Gone are the days of manual pool cleaning and basic lighting. Today's backyard pool design embraces the best of technology, offering mesmerizing LED lighting schemes that can set the perfect mood for any occasion. Imagine the breathtaking ambiance as the gentle hues of the lights change, creating a captivating atmosphere for your poolside gatherings.
Not only that, but automated cleaning systems keep your pool in pristine condition, ensuring sparkling waters without the hassle of manual maintenance. Say goodbye to time-consuming and tedious tasks, and hello to more time enjoying your oasis.
And the cherry on top? With just a few taps on your smartphone, you have complete control over all these settings. Adjust the lighting, schedule the cleaning, and transform your pool with a touch of your fingertips. Immerse yourself in the future of ultimate luxury and convenience, where technology and relaxation seamlessly intertwine.
4. Multi-functional Pool Design for the Modern Family
A pool isn't just a place to cool off; it's where memories are made. Picture yourself lounging on a luxurious in-pool recliner with a refreshing drink in hand, all while soaking up the sun's warm embrace. And why stop there? Unwind from your day in an integrated jacuzzi and feel the day's cares melt away with each soothing bubble. Modern pools are the epitome of versatility, offering a perfect escape for relaxation and entertainment.
Whether you're lounging on an in-pool recliner, chilling under a pergola, or warming yourself by the fire pit, modern pools are all about versatility. And let's be honest, being able to host a pool party where guests can enjoy all these amenities? That's some next-level hosting prowess right there.
5. Prioritizing Sustainability in Backyard Pool Design
Beyond just aesthetics, the modern homeowner is also strongly committed to being eco-conscious. They understand the importance of sustainable living and strive to make environmentally friendly choices in every aspect of their home. From installing solar heating systems and using sustainable materials to adopting eco-friendly pool systems, they prioritize actions that benefit both the ecosystem as well as the pool user's well-being.
Not only does this eco-conscious approach have a positive impact on the environment, but it also offers numerous benefits to homeowners themselves. By minimizing chemical usage and reducing energy consumption, they not only contribute to a healthier planet but also enjoy long-term financial savings. We here at Waterside opt for energy-efficient equipment and self-cleaning pool systems, so you can spend less time and money on pool maintenance. It's a true win-win situation, with everyone involved reaping the rewards of a more sustainable lifestyle.
6. Upcoming Trends in Backyard Pool Design: A Glimpse into the Future
The saying "less is more" has never been more apt. Drawing inspiration from the broader architectural and interior design world, pools are shedding the superfluous to embrace minimalism. Clean lines, uncluttered spaces, and simplicity are the keywords. But don't be mistaken – this doesn't mean they're any less luxurious. The refined elegance that exudes from these designs speaks of understated luxury. Imagine clear expanses of water, unmarred by over-the-top features, bordered by subtle decking that melds seamlessly with the surrounding landscape.
In an era where multipurpose functionality is revered, pools are no longer just for swimming. Emerging designs are blurring the lines between lounging and swimming spaces. Semi-submerged features such as fire pits, lounging beds, swim-up bars, and water hue-changing interior finishes are features that are sure to be must-haves. Imagine sipping on your favorite cocktail without having to leave the comforting confines of the pool, as underwater stools and sleek counters make the experience utterly seamless. Or imagine a customized hue of pool water to your preference.
The world of backyard pool design is ever-evolving, but the desire for a space that's both beautiful and functional is constant. The pools of the future promise a blend of aesthetic finesse, multipurpose functionality, and innovative features. As we stand on the cusp of these exciting trends, one thing is clear: with their privacy, convenience, and customizability, backyard pools will never go out of style. A modern pool does more than just elevate your backyard's aesthetics—it becomes an integral part of your lifestyle, offering relaxation, entertainment, and endless memories for you and your loved ones.
Get the Best with Waterside Poolscapes
We get it—the world of pool design is vast, and the choices can seem endless. The last thing anyone wants is to feel regret over a design decision. Waterside Poolscapes is here to help. We design pools tailored to your needs. We're not just about creating pools; we're about crafting experiences. Whether you dream of a natural oasis or a futuristic retreat, we're here to bring that dream to life.
Our custom designs are backed by a Lifetime Warranty. Are you looking for the perfect backyard pool? Ready to take the plunge? Dive into the latest trends with our team of backyard pool designers, eager to guide you from dream to reality. Let's make waves together. Get a free quote by scheduling a call with us today!