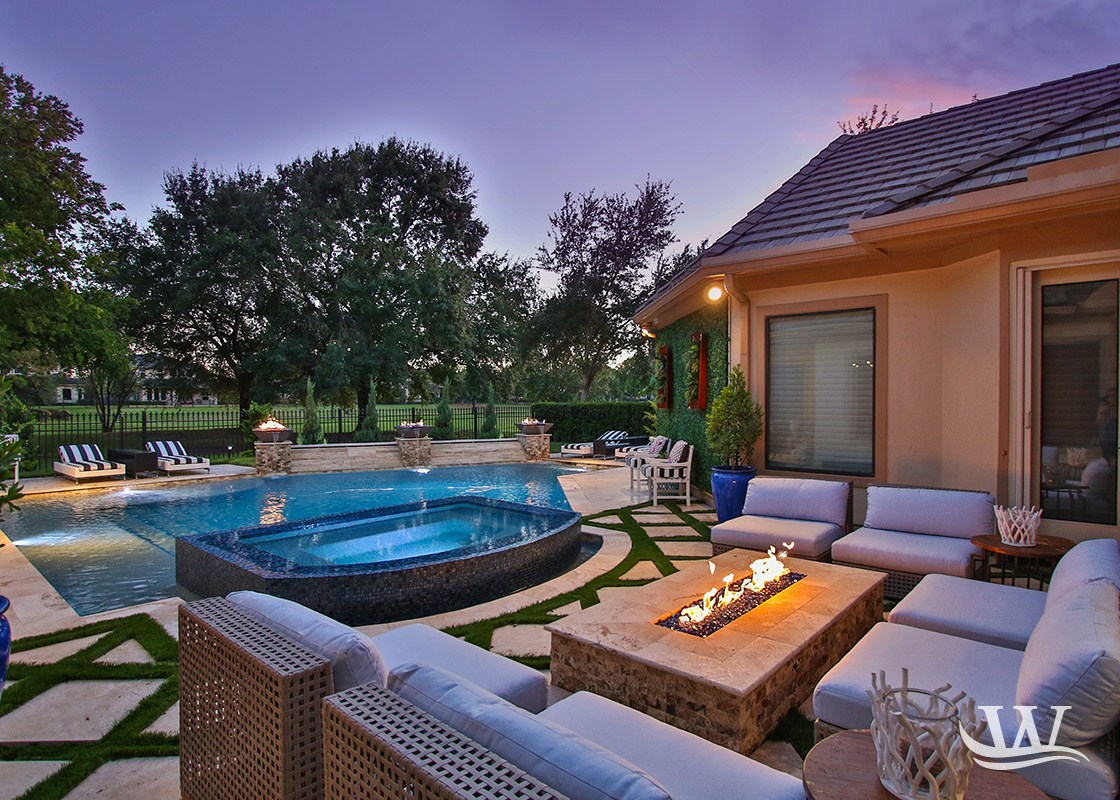 Houston, known for its sweltering summers, has seen a surge in homeowners wanting to cool down right in their backyards. But when it comes to installing a pool, there's a key decision to make: standard or custom? If you're on the fence, here's why choosing a custom pool builder in Houston could be the best decision for your home and lifestyle.
Venturing into the world of custom pools can be daunting. Many homeowners are anxious about the journey to their dream pool, plagued with worries about potential hassles, lack of guidance, or, even worse, being left with an unfinished project. We wholeheartedly understand and agree – that's not right! The process of adding a pool should be an exhilarating experience that elevates your lifestyle, not a source of additional stress.
We here at Waterside Poolscapes are here to guide you through the benefits of going with a custom pool builder instead of a standard pool kit. Don't settle and explore these benefits of partnering with a custom pool builder in Houston.
1. Tailored to Fit YOUR Space and Vision
Every backyard is different, just as every homeowner's dream is unique. By opting for a custom pool, you're ensuring that the design perfectly complements your space and aesthetic. Unlike generic designs that often require homeowners to compromise, custom designs guarantee that your pool will fit snugly, regardless of the size of your backyard. This tailored approach ensures that every inch of available space is used to its full potential. 
Not only will custom pools fit your space, but they can also be personalized to match the specific needs of you and your family. For example, with a custom pool design providing features such as a swim-up bar or raised spa can turn an ordinary backyard into a luxurious outdoor oasis. You'll have more control over the details and specifications, and be able to choose the exact materials and finishes that you want.
When you make the decision to collaborate with specialized Houston pool builders who prioritize custom designs, you're not only opting for quality but also embracing an unparalleled level of craftsmanship and attention to detail. These builders are meticulous in their approach, ensuring that each aspect of the pool, from the depth of the water to the curves of its shape, is thoughtfully crafted with precision and durability in mind.
Furthermore, the luxury of custom-built pools grants homeowners the freedom to not only choose the materials but also to indulge their creative vision. This not only guarantees the longevity of the pool but also enables homeowners to achieve the exact look and ambiance they desire, transforming their pool into a truly personalized oasis tailored to their preferences and preferences alone.
Installing any pool can boost the value of a property, but custom-designed pools have the added advantage of being unique selling points. By collaborating with a renowned Houston pool builder, homeowners can create a bespoke design that will not only enhance their home's market value but also elevate the overall aesthetic appeal, transforming the backyard into a captivating oasis. If there ever comes a time when you decide to move, having a distinctive and thoughtfully designed pool can make your property stand out amongst the competition, capturing the attention of potential buyers and potentially commanding a higher price.
4. Personalized Features and Amenities
The true luxury of a custom pool lies in its exceptional adaptability. Imagine stepping into your dream pool, complete with a mesmerizing cascading waterfall that creates a serene and soothing ambiance. And when you need to relax and unwind after a long day, picture having a cozy jacuzzi corner where you can melt away your stress and tension.
But that's not all – custom designs allow for endless possibilities. From unique features like built-in underwater seating to personalized lighting options, you can truly create a pool that reflects your individual style and preferences. Additionally, these custom pools can be designed with safety in mind. Whether you have children who love to splash around or elderly family members who need extra support, specific features such as reliable grip handles, strategically placed shallow areas, or slip-resistant tiles can be incorporated to ensure everyone's safety while maintaining the aesthetics that make your pool a visual wonder.
With a custom pool, you have the power to bring your vision to life and create an oasis that surpasses your wildest imagination, making every moment spent in and around the pool a true delight for you and your loved ones.
5. A Seamless Match with Your Landscape
One of the standout benefits of having a custom pool is its exceptional ability to harmoniously blend with your existing landscape, creating a breathtaking oasis in your backyard. Imagine lush gardens, perfectly complemented by a custom-designed pool that seamlessly integrates into the natural beauty of your surroundings. Whether you have a sprawling patio adorned with cozy seating areas or a chic outdoor kitchen where you can entertain guests, a custom pool can be meticulously crafted with every detail in mind. 
Not only are these designs visually stunning, but they also prioritize environmental considerations, ensuring minimal disruption to the existing ecosystem of your backyard. Experience the perfect balance between nature and luxury with a custom-designed pool that transforms your outdoor space into a true paradise.
Building the Ultimate Backyard Oasis with Waterside Poolscapes
We understand the desire, the dream of stepping into your backyard and being welcomed by a pristine pool that feels unmistakably yours. It's not just about having a place to swim; it's about creating memories, hosting unforgettable summer parties, and having a sanctuary right at your doorstep. However, we also recognize the hesitations. Will it be too much hassle? Will the design fit right? Can I truly get what I envision?
This is where Waterside Poolscapes steps in. We're your dedicated partners, committed to ensuring a smooth, transparent process from conception to completion. Our team is resolute in its mission to not only understand your vision but to keep you informed and at ease every step of the way. We recognize your concerns, and we're here to ensure you never feel left in the dark.
Your dream of being the ultimate backyard host, of seeing your friends and family revel in an environment crafted by you, is within reach. And with Waterside Poolscapes, you can rest assured that your backyard oasis is in the most capable hands. Let us be a part of your journey. Let's craft that dream together! Schedule a call with us today!