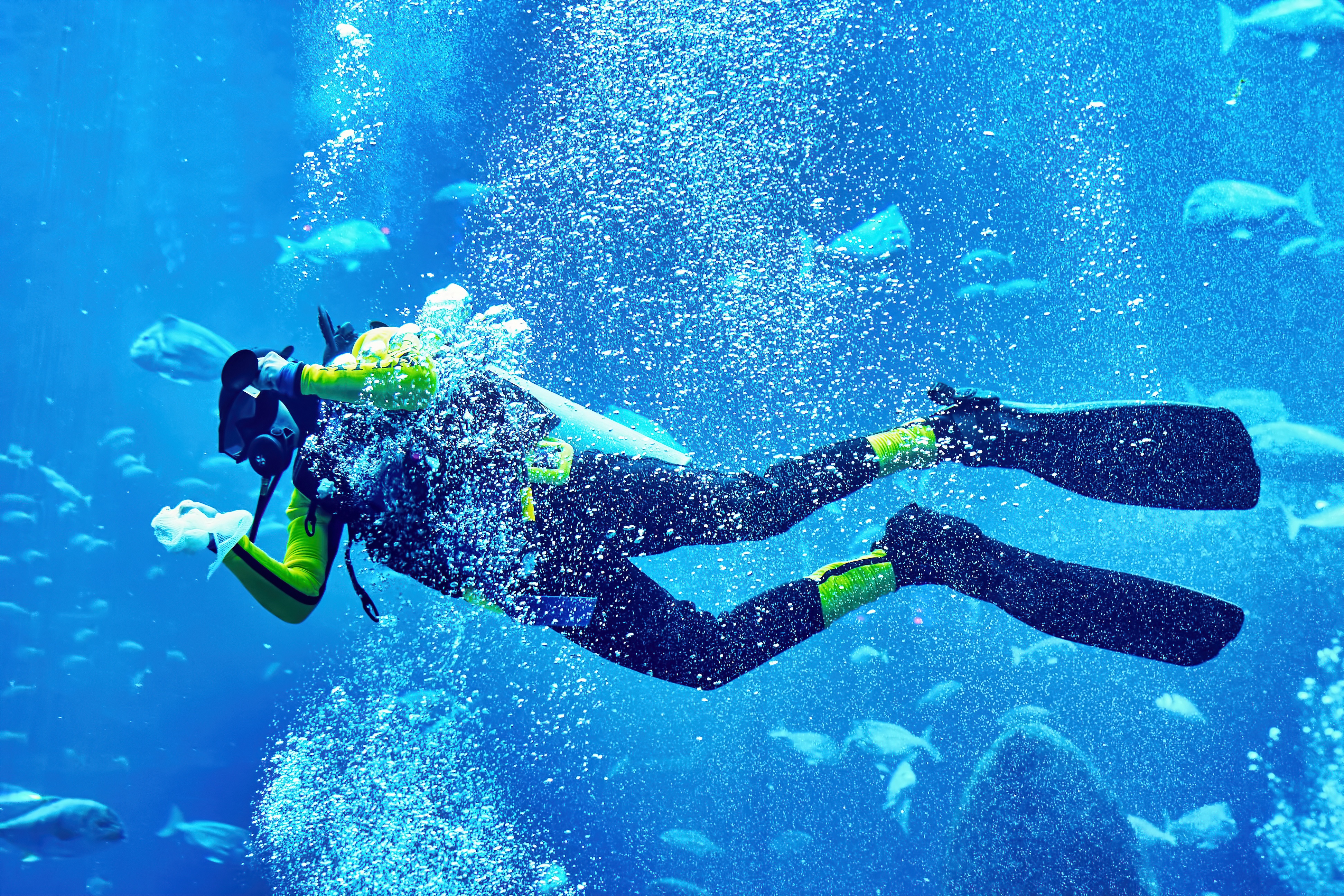 One of the first things our customers discuss with us is the size and shape of their swimming pool. Rectangular, circular, kidney, free-form, Grecian, Roman, or L-shaped pools are some of the most common shapes to choose from. And yet, there is another dimension to discuss: the depth of the pool.
While not everyone has enough space to build an Olympic-sized pool with the equivalent diving board, the depth of the pool can be critical.
To decide the right depth for our customers, we ask them to take into consideration what sort of use they will be making of their pool: relaxing, diving, or swimming. The ideal depth will depend on their preferences.
The depth of the pool will also determine the ultimate cost of the pool: a deeper pool requires more excavation and materials, as well as higher labor costs. Likewise, a deeper pool contains more water, which means higher swimming pool maintenance costs in terms of chemicals and chlorine.
What Is the Average Pool Depth?
Most swimming pools are 6 ft deep. Customers who want to install a diving board will need to have a deeper swimming pool, reaching at least 8 ft deep at its deepest. If you install a diving board, your swimming pool will also need to be bigger than average, for safety reasons.
If you want your swimming pool to have various depths, from shallow to deep, then you can start at 3 ft on the shallow end and progressively increase the depth to 6 or 8 ft. The shallow part can be great for lounging and for smaller children, while the deeper end can be used for diving and swimming.
What Are the Deepest Swimming Pools in the World?
Speaking of swimming pool depth, we love to see how engineers and swimming pool experts are exceeding themselves to create astonishing swimming pools with incredible depths.
Deep Dive Dubai
The latest great achievement has been the Deep Dive Dubai: a 196-feet-deep swimming pool that contains enough water to fill six Olympic-sized swimming pools.
Visitors enjoy this swimming pool's diving opportunities as well as the sunken city that has been created at the bottom of the pool. It's like you are diving into a city and exploring all its features such as architecture, buildings, and streets, creating an astonishing feeling for divers.
The Deepspot in Poland
At 148 ft deep, the Deepspot is a breathtaking diving swimming pool in Poland. Scuba divers—both professionals and amateurs—can practice their diving technique in this swimming pool. Their friends can watch them during their practice from tunnels that have been built around and in the swimming pool. It offers a different perspective on how amazing a deep swimming pool feels.
Nemo 33
A very appropriate name for a swimming pool located in Belgium is Nemo 33. It reaches 113 ft at its deepest.
The swimming pool designers went to great lengths to make it interesting with caves and tunnels to swim and dive in.
Just like Deepspot, you can lounge and look at divers through the several windows and tunnels located around the swimming pool.
TODI: a Swimming Pool with Fish
How would you feel if you were diving amongst fish and yet were not in the ocean?
TODI swimming in Belgium is not the deepest swimming pool, as it stands at a mere 32 ft. But what it lacks in depth it gains in interest and versatility: divers will swim and dive amongst millions of fish, for an experience that combines the safety of the swimming pool with the richness of the ocean.
A Natural Swimming Pool: Homestead Crater in Utah
No matter what we come up with, nature has a way to surpass it. Homestead Crater is a natural hot spring that has been sunk in the rock. It stands at 55 ft. deep and is made of limestone rock. Water temperatures are at a balmy 96 degrees F, making for a wonderful natural experience. No human ingenuity, just thousands of years of rock formations and the earth warming the water.
Guests can swim, soak, or scuba dive in this natural swimming pool.
We Can Build the Swimming Pool of Your Dreams
If reading about swimming pools and diving has whet your appetite for hours of fun with your family and friends, then Waterside Poolscapes is your partner.
We will help you choose the swimming pool shape and depth that matches your needs. And we will build it according to your specifications, in time, and within your budget. Call Waterside Poolscapes, the top U.S. Pool Builder, at 281-690-4810 to discuss your swimming pool needs and how we can help you enjoy your summers. You can also schedule a free, no-obligation swimming pool design consultation, email us, or contact us online. To meet in person, visit our showroom at 25311 Kingsland Blvd #110, Katy, TX 77494. Office Hours: 8:30-4:30 Monday to Friday, CST.