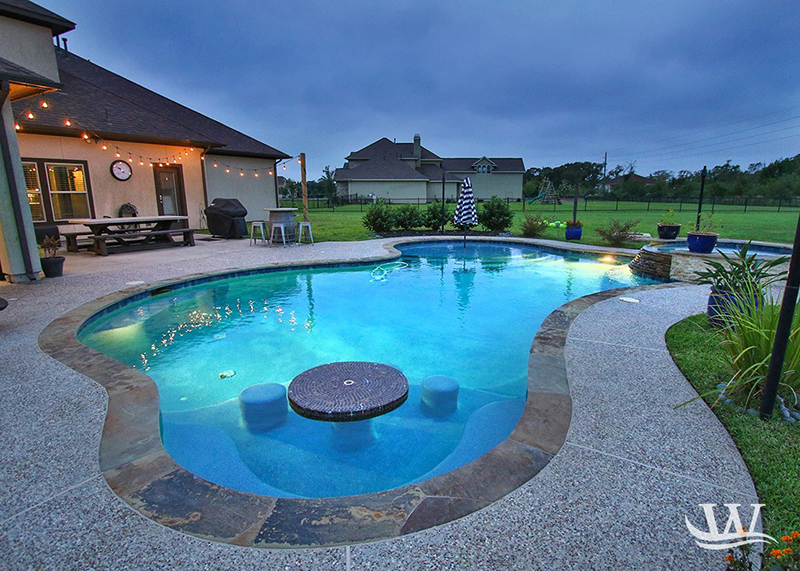 Your Premier Katy Pool Builder
Are you searching for a reputable and reliable pool builder in Katy, TX?
Look no further than Waterside Poolscapes. As the premier pool builder in the Katy area, we specialize in designing and constructing custom swimming pools that perfectly suit your lifestyle and enhance the beauty of your outdoor space. With our unwavering commitment to quality, exceptional craftsmanship, and personalized service, we are here to bring your dream pool to life.
Expertise & Experience
At Waterside Poolscapes, we pride ourselves on our extensive expertise and years of experience as swimming pool builders in Katy, TX. Our team consists of seasoned professionals who are well-versed in the local regulations, climate considerations, and design trends specific to the Katy area. With our knowledge and skills, we ensure that your pool not only meets your expectations but also withstands the test of time.
Tailored Designs to Match Your Vision
We understand that every client has a unique vision for their dream pool. Our Katy pool builders will collaborate with you to create a customized swimming pool that fits your preferences, lifestyle and desired aesthetics. Whether you envision a modern and sleek pool or a classic and inviting oasis, our custom pool builders in Katy, TX will turn your ideas into a stunning reality. We pay meticulous attention to every detail, from the pool shape and size to the features and landscaping, ensuring that your pool reflects your personal style.
Uncompromising Quality and Craftsmanship
At Waterside Poolscapes, our commitment to excellence is unwavering. We take pride in every aspect of our pool construction process, ensuring unparalleled quality and craftsmanship at every turn. From the foundation to the finishing touches, our skilled craftsmen use only the finest materials and advanced techniques, paying attention to every detail to create a pool that is not only beautiful but durable. As your Katy pool builder, we promise to give you an enjoyable experience with swift and clear communication and a team dedicated to making sure you get the beautiful pool you want with the quality you expect.
Customer-Centric Approach
Your satisfaction is our top priority. We believe in clear and open communication, keeping you informed and involved throughout the entire project. Our friendly and knowledgeable team is always available to answer your questions, provide expert advice, and offer regular progress updates. With Waterside Poolscapes, you're working with the best pool builders in Katy and beyond. We guarantee a seamless and enjoyable experience from start to finish.
Katy's Most Experienced Pool Builder
At Waterside Poolscapes, we know you want to be confident that you can get the swimming pool you want. The problem is, you feel overwhelmed by all the decisions that need to be made. Wouldn't it be great to find a swimming pool company that offers a smooth process you can feel confident about?
We believe that's the way private pool building should be! Our pool contractors understand how drastically a custom pool can shape the landscaping of your yard. So, we promise to give you an enjoyable experience with swift and clear communication and a team dedicated to making sure you get the beautiful pool you want with the quality you expect.
Choose Waterside Poolscapes as Your Katy, TX Pool Builder
When you choose Waterside Poolscapes as your Katy pool builder, you choose a partner dedicated to delivering exceptional results, personalized service, and an extraordinary custom pool-building experience. Our team of experts will work closely with you to design and construct a custom swimming pool that caters to your unique needs and preferences. From initial consultation to final construction, we ensure open communication, regular updates, and on-time delivery. Trust us to turn your vision of a perfect custom swimming pool into a reality.
Here's what Our Customers Have to Say
"We absolutely loved our experience with Waterside Poolscapes. From Jason in sales to Jackson in building we had a 5 Star experience with 5 Star results!!!! They were open, honest, efficient, and all-round amazing. We have had our pool for just under a year. They still respond to questions, did a great job training us in caring for the pool, and have shown up for any needs right away! I would HIGHLY recommend this pool builder to anyone in the Houston area."

Jocelyn J.
"Waterside Poolscapes has been wonderful to work with! I can personally attest to the fact that they place great importance on customer satisfaction and communication. I had a lot of questions/concerns, and they took the time to address every issue I had...I was extremely impressed. From the start of our pool construction to our now weekly pool service with them, they have been nothing but professional, polite and very responsive. I would highly recommend them!"

Holly P.
"We are second time pool buyers and this experience was 1000% better than our first experience. We LOVE Waterside Poolscapes. They did a fantastic job. They are affordable, professional, easy to work with and responsive to customers questions. They also are very quick to follow up with any issues that come up during and after the pool construction phase is finished. They have adequately trained us on the use of all of our pool equipment and help us troubleshoot along the way."

Suzanne N.